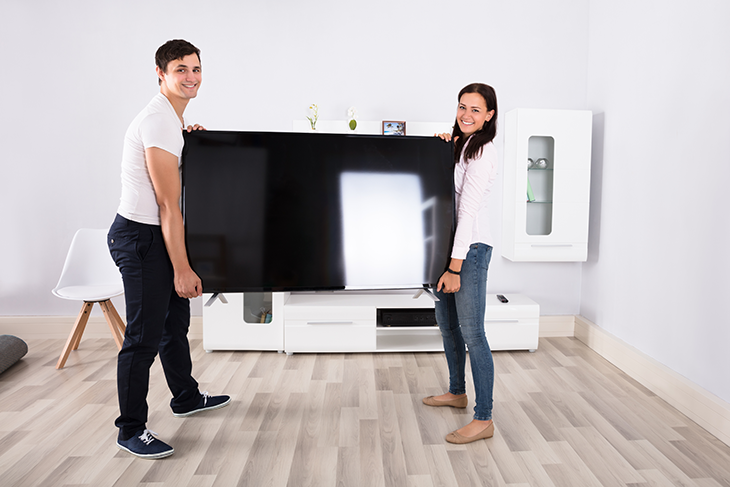 Taking the time to pack your flat screen correctly is far cheaper than buying a new one, of this we can assure you.
As much as we hate to admit it (or not – sorry not sorry), our flat screens are a staple in the home.
To ensure no damage follow our Brotherly Advice and pack it right.
How to Pack Your Flat Screen
The best option is to repack the TV in its original carton, if you kept it that is. If you didn't, your second best option is to purchase a carton for the TV. It may be worth it just to reduce the possibility of damage to the screen during a move.
Your last and final option is to wrap your TV in a blanket, securing it with plenty of tape. If you can, add an extra layer of bubble wrap.
Moving Your Flat Screen
You may have heard to never lay your TV horizontal during transportation because it will damage your television. This is only partly true. Laying your TV horizontally in and of itself will not damage the TV, the issue lies more in the transportation itself.
As your Flat Screen has been manufactured to stand upright, the screen is extremely delicate; laying it horizontal will cause addition pressure to the screen, and then with any bumps or knocking around (like from a moving van) some real damage can result.
Tips:
Try to always load your TV in a Vertical position.
Never load anything heavy on top of your Television Carton
Try to surround the TV with other flat, stable items, so that if the TV shifts during transportation nothing with stab through the box.
Remember to treat your TV like the prized possession it is. Just because it can withstand hours of binge TV watching doesn't mean it can take on a Truck full of shifting boxes. It's fragile!
Call Brothers Moving Today for a Free Estimate and to learn how we can help you move your Flat Screen!